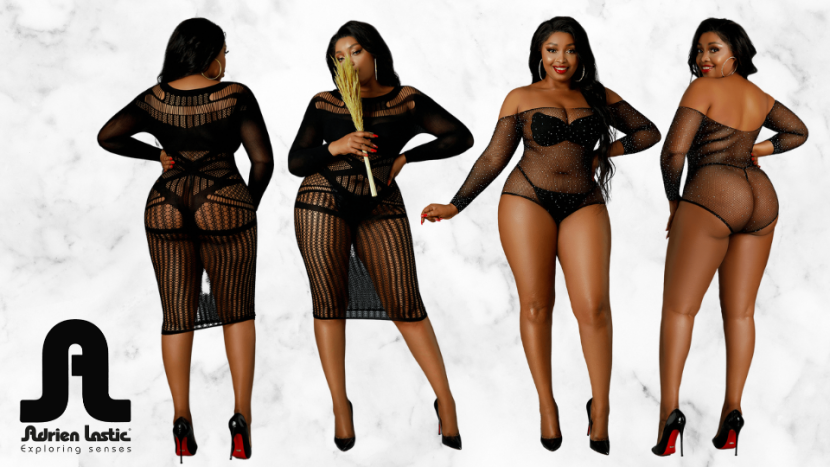 CNEX/Adrien Lastic, European sexual health and wellness manufacturer is taking pre-orders for two new product collections including body-positive intimate apparel and entry-level bondage essentials.
Joining the manufacturer's established family of brands (Alive, Adrien Lastic, Femintimate and SilexD), both collections are aligned with the company's commitment to creative and healthy sexual expression while recognizing unique differences in consumer lifestyles.
According to Adrien Lastic – who was recently nominated for StorErotica''s 2022 Foreign Manufacturer of the Year Award, agile manufacturing is a competitive advantage that enables the company to quickly respond to market needs without compromising quality.
Moonlight is a contemporary line offering sleek, off-the-shoulder bodysuits, skin tight maxi dresses and curve-enhancing teddies. Sized from 10-18, CNEX integrated fashion-forward, modern clubwear with intricate lingerie accents. Embellishments include shimmering rhinestones, romantic lace patterns, bold linear stripes and sheer mesh fabrics that elegantly blend fierce sex appeal with sophistication.
Measurement accuracy, comfort and wearability were top priority in an effort to shift away from notoriously limited sizing and style options in the intimate apparel market. Each convertible, ready-to-wear style achieves a playful and ultra-polished aesthetic. Sizes 00 and up will be released in the US in September.
In addition to an inclusive range of sizes, Moonlight's boxed packaging product shots exclusively feature models with curvy body types and melanated skin tones.
CNEX tapped Jackie Richerson, VP of Operations and Sales and Johanna Weston, Director of North American Sales to contribute their combined expertise in retail sales, familiarity with niche market trends and their own lived experiences as long-time consumers of sexywear and kink products.
Richerson shared, "on a personal level, we understand how sizing and fit can make or break self-confidence with different types of clothing, particularly intimate apparel." She continued, "it can be difficult to feel empowered in a piece that you either can't envision yourself wearing, or a piece that just doesn't hug your body the way you had imagined."
"It was important for us to offer sizes and styles that a wide number of lingerie consumers can feel sexy in – as well as employing models who represent more authentic body shapes and skin tones that aren't often represented or considered, historically speaking, within apparel design – especially in the adult industry."
The kink collection joins Adrien Lastic's Alive brand and includes a breathable silicone ball gag, adjustable leg harness, rubber anal douches in three sizes and jeweled metal plugs in three sizes. Rounding out the intro kink collection is a 10-piece BDSM kit complete with beginner must-haves: kinky dice, a nylon leash with detachable collar, nylon Shibari rope, lace blindfold, adjustable nipple clamps, a vegan leather flogger, flat paddle, and padded wrist and ankle restraints.
Each product in the light bondage line was hand-selected and tested throughout all departments within the company to ensure safety, quality control, durability and to affirm US market demand.
"We got our boss to try the ball gag on, which was funny," said Richerson. But it also demonstrated safety and comfort (silicone; breathability) to an inexperienced individual. He approved,"
"Our team reached a consensus that the 'weird girls' might know something," she chuckled, referring to herself and Weston.
Agile manufacturing is a competitive advantage for CNEX, allowing the company to quickly respond to market needs without compromising quality.
According to Weston, "both Jackie and myself identify as lifestyle kinksters. We understand that navigating the shopping experience as an entry-level consumer can be a complex or confusing process because we were there at one point ourselves. Once you find what you may be looking for, the next step is to determine if the product/s will be a safe and high-quality investment. These premium BDSM products aim to eliminate that guesswork for the entry-level consumer, which will help retailers achieve success as well."
"This line has generated solid traction in the European market, and we anticipate these specific items will resonate with US consumers. For example, we believe the addition of anal douches will help bring preparation and comfort to the forefront of anal play as opposed to an afterthought. Our goal for the bondage collection is to position Adrien Lastic as the go-to, trusted option for beginner-friendly staples."