HOLLYWOOD, CA – Gorgeous young starlet Aliya Brynn took a break from her busy filming schedule to release three hot new scenes on her ManyVids and OnlyFans platforms this week. The multifaceted beauty first dropped a boy girl scene called Young Couple Making Love starring her and French Brutus that left her floating on a cloud of bliss! According to Aliya, their sexual chemistry was off the charts.
"He was so delicate and in tune with my body," Brynn said. "I felt like a queen cumming for him and pulling his sperm out. Teasers for young couple are on my Twitter @AliyaBrynn!"
Her second release, Strippers Fuck the Club Guest, was filmed with her sexy friends Lolly Mai and Jason Sweets. Aliya and Lolly dress up as naughty strippers in the filthy threesome and used Aliya's personal strip club as a brothel.
"Lucky Jason got to take us both home from the club and his cum gets milked out all night," explained Aliya. "The full trailer is available on my Pornhub channel."
I Love Fucking You Daddy was filled with dirty talk while Aliya hooks up with her lover in POV, giving you sloppy head and a good hard fuck combined with a few vape hits thrown in for good measure. Anyone who has ever dreamed of being with the young stunner is in for the treat of their lives as she gives you the royal treatment then demands that you unload on her breathtakingly beautiful face.
"You give me the best wettest facial," Aliya explained, "and I thank you so much for it!"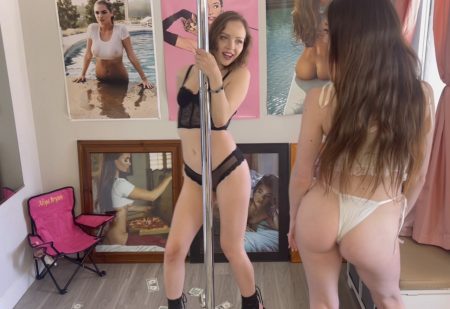 See Young Couple Making Love, Strippers Fuck the Club Guest, and I Love Fucking You Daddy on ManyVids at aliyabrynn.manyvids.com/ and on OnlyFans  at https://onlyfans.com/AliyaBrynnxxx.
Aliya Brynn is self-booking. Professional producers with serious inquiries can contact her by emailing [email protected].
SOCIAL:
Twitter: @AliyaBrynn
Instagram: @AliyaBrynnLovesYou