APAG, is once again calling for performers to "strike" at Instagram's headquarters.  This is the second time they've called for a "strike"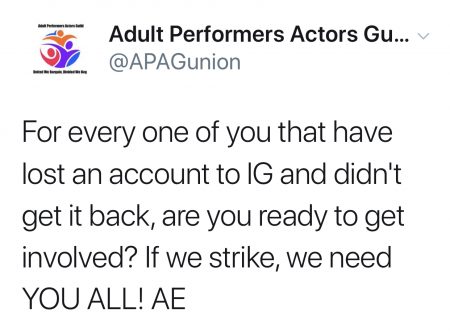 Strike?  Now, im just a loser blogger who nobody reads, but I don't think the Union is using the right word?  Lets see what google has to say about this
Strike action, also called labor strike, labour strike, or simply strike, is a work stoppage, caused by the mass refusal of employees to work. A strike usually takes place in response to employee grievances.
Last I checked, No one on the APAG board worked at Instagram/Facebook.
Maybe the word they are looking for is protest, lets see what google has to say.
protest. … If you protest something or protest against something, you say or show publicly that you object to it.
Now I'm just a keyboard warrior who everybody in porn hates, but If I didn't know better, I'd say the UNION doesn't know the difference. I find this odd since part of having a union is striking