Another day, another porn girl getting assaulted by a male performer.   Cole Church, the crossover twink signed to ATMLA is the latest to accused of hitting a chick…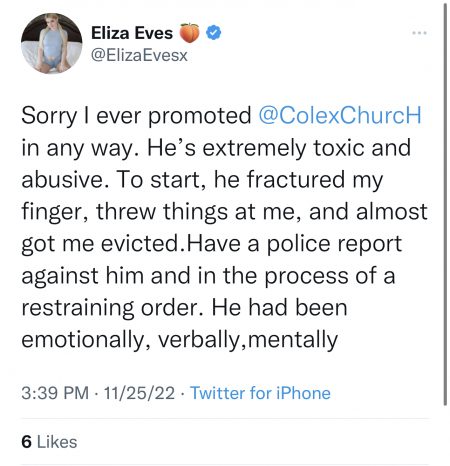 Some of you may know Cole as the guy who blames being a crossover as why he doesn't get booked.. Certainly it has nothing do with his awful reputation on set, showing up late, and performance issues, no, its got to be something else.
Please don't confuse Cole with former 101 and current ATMLA talent, Cody Carter.
Once you over look his charges/convictions for things like,  Criminal damaging, Assault, Attempted Felonious Assault, Felony Assault (multiple), Theft, Attempted Telecommunication Harassment, Menacing by stalking, he's a swell guy…I'm certain he's not ever gonna cause an issue with a female performer…And most likely, all those cases he caught were given to him by crooked cops who just hated him cuz "he's a sex worker"..Maybe Granny Evans and the APAG hags should launch an official investigation into those crooked sex work hating police.
One has to wonder, when male talent come in, doesn't ANYONE ask them about criminal history? Certainly some things can be overlooked, but it's not rocket science. This is the information age, finding out if your making money off women beaters isn't a complicated thing to do..Unless it doesn't matter…Clover
In the end, 5 more girls will have problems with this guy, and if im bored, ill write about it..