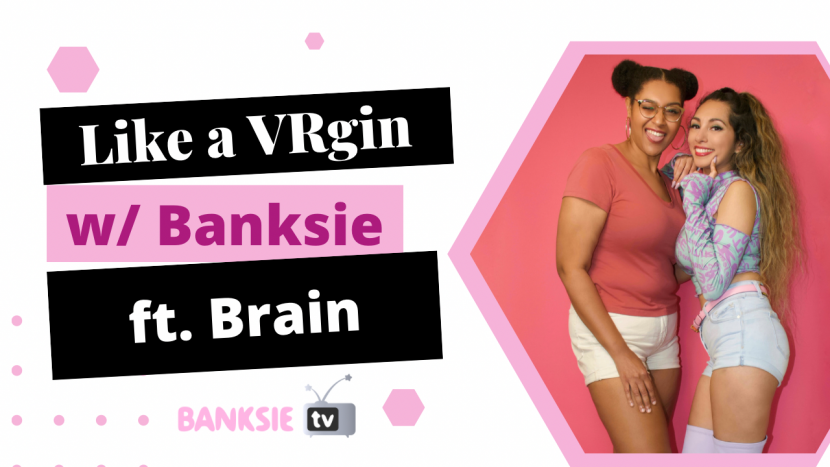 BanksieTV and Motorbunny are proud to announce content creator Brain as a guest on the "Like A VRgin" series. The episode is now available on YouTube.
"Working with Brain on the show was an absolute pleasure," said host Lindsey Banks. "She brought a fresh perspective and energy to the VR experience, and we're thrilled to share it with our audience."
Chatting in Texas, the two chat about Brain's start in the adult industry and how she's navigated being a cam model and content creator. Brain also shares her tech must-haves for work. To learn more about Brain, follow her on Twitter at @GiveMBrain.
In addition to the exclusive VR interview (which is now up on YouTube), Brain's appearance on 'Like A VRgin' will also be featured on a special episode of the "Banksie Bonus" podcast. Fans can tune in for additional content and behind-the-scenes insights into Brain's life and career. The podcast will be available on May 15th. View the episode here: https://www.youtube.com/watch?v=3r3JdSktchM
'Like a VRgin' is an innovative monthly series of 360-VR interviews hosted by Banks (also known as Banksie) that delves into numerous aspects of SexTech and the adult industry as a whole. The interview series takes viewers on a virtual journey through the latest and greatest in VR technology, as well as offering insights into the lives and careers of the VR world's biggest stars. In each episode, Banks also reveals custom 3-D modeled visuals of the guests and includes bonus extended content for her new audio-only podcast. These 3-D avatars will also be part of an interactive gallery experience hosted on the Metaverse, Sapital.io. On YouTube, 'Like a VRgin' implements spatial audio with additional content.
Based in Texas, Lindsey Banks is a global multiple award-winning CamStar and community figure. During the last decade, Banks ascended to the throne as official cam royalty by using her diverse platforms to elevate and mobilize the cam community. The Queens of Cams has a rich background in hosting numerous award shows and red carpet events, in addition to her active participation in industry seminars and projects. As a former Fleshlight Girl, the first official Pornhub Collaborator, and Flirt4Free's Lifetime Achievement Award recipient, Banks is also the Creative Director of BanksieTV, a worldwide brand promoting/sharing awareness and unity in the community and SexTech.
For more information, visit Banks' official website at BanksieTV.com and follow her on Twitter at @QueenBanksie and BanksieTV and YouTube at BanksieTV channel and Banksie channel.
Press inquiries can be directed to [email protected].