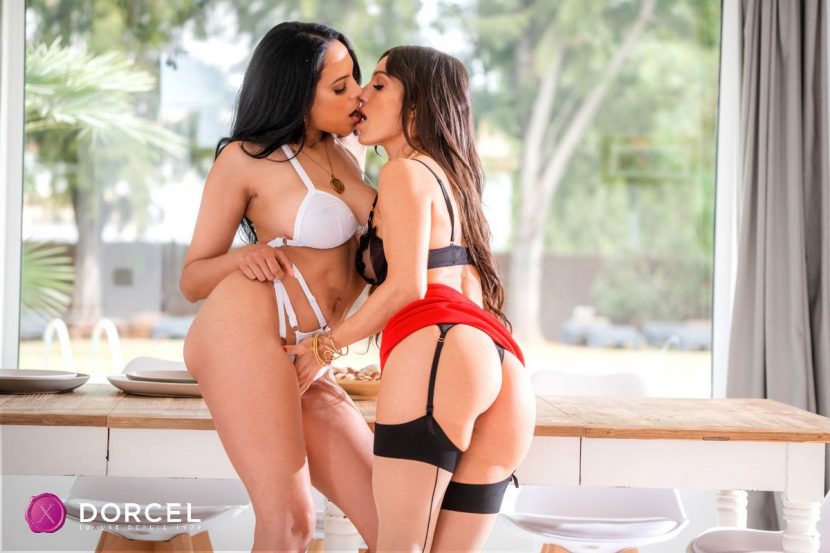 Dorcel, the major international player in pleasure for all, is pleased to announce the release of the virtual reality-themed star showcase Bella, An Indecent Story. Starring Bella Tina, this all-new 174-minute production is now available on DVD in the United States from Pulse Distribution.
Featuring French-born Bella Tina in three scenes and helmed by Alis Locanta, this intriguing production follows a thirty-something beauty's efforts to recover from a painful separation and make a fresh start with a new life, a palatial new home with a beach nearby, and a past she would rather forget.
To take her mind off things, Bella tries to occupy her free time as much as possible. Even though she feels a sense of loss, she never wants to think about her previous relationships again. What if the experimental VR headset she was given allowed her to escape from her daily life to discover new sensations, new pleasures…new worlds?
Ready to to explore the kind of exotic sensations which may exist between the real and virtual worlds, Bella prepares to live out her most hidden fantasies.
In her first foray into the virtual world, she finds herself on the terrace of a sumptuous villa with a gentleman caller (John Stwo). Seducing this stranger with no strings attached nor questions asked empowers her to take control of her romantic life. Subsequent trips find Bella exploring the boundaries between realities as she enjoys a sapphic tryst with Uruguay-born beauty Katrina Moreno before sparking a high-energy three-way with Stwo and Tommy Cabrio. Mégane Lopez, Aya Benetti, Ryan Benetti, and Cindy Shine round-out the international cast.
An Indecent Story is one of Dorcel's longest-running and most popular franchises, and director Locanta imbues the latest installment with strong sexual performances throughout, especially from Bella, who initially seems conflicted and torn between her longing for the past and the excitement of the present. She's human and vulnerable, but soon learns how to bend the rules of the simulated world to her will, which poses two existential questions. Is her own life in 2022 a simulation itself? And how deep into a VR world of sexual pleasure can you go before losing touch with any sort of consensus reality?
"What makes Bella, An Indecent Story so compelling is the erotic scenes play on the actual simulated world theory proposed by Nick Bostrom, which Elon Musk, among others, is a staunch believer in," said Daniel Metcalf, Dorcel's U.S. Publicist. "And the movie follows this concept to the logical extreme – the idea that Bella's 'real' world may be an actual simulation, which – in the concept of the story at least – isn't a far fetched idea considering how technology has developed at a rapid pace."
The major European innovator in sexual pleasure through VOD services, concept stores, virtual reality, and podcasts, Dorcel is at the forefront of technology in the service of pleasure.