Troubled APAC President Ana Foxxx had a hard time containing herself after AVN released its list of winners Saturday night.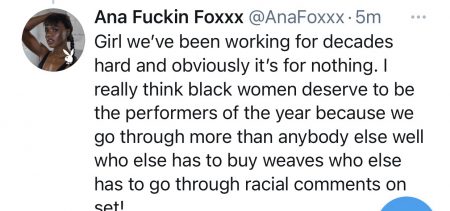 Make no mistake about this, Anna is mad SHE didn't win. This has nothing to do with anyone else, she downplays all other POC in her tweets, throwing shade at Kira Noir, and basically dissing black men..
Ana has never been the brightest tool in the shed, she's a simpleton, and it shows. She was one of the most vocal Floyders out there, calling for AVN and XBIZ to eliminate minority award categories, when those categories were added specifically to shine the light on more POC.
News Flash Ana, Black Performers ARE NOT as popular as White and Latinx performers. Those are facts. Awards, for the most part are about popularity, and Ana, you're not even in the top 10 of most popular POC.
Pornhub, the most popular porn site in the world, lists Sarah Banks as the most popular women of color and 56 overall, followed by Ricky Johnson. Ana, you're like number 16 at 485. Sure PH isn't the tell all tell all of popularity, but their list goes a long way in the hiring process, and is a pretty good indicator of what the fans like.
Lets go down the list of AVN POY Nominees
Abella Danger #2
Emily Willis #9
Angela White #13
Adriana Chechik #33
Alina Lopez #43
Kenzie Reeves #76
Kira Noir #104
Emma Hix #164
Kyler Quinn #169
Gianna Dior #234
Gia Derza #250
Jane Wilde #270
Kenna James #380
Naomi Swann #395
Ana Foxxx #485
Ana, you're the least popular of all those nominated. In fact, one could make the case that you're only ON the list because of race. There are certainly more deserving WOC than Ana Foxxx…
Instead, you attack AVN, call them racist, even though 2 of the last 5 Best New Starlets have been black, Holly Hendrix and Scarlit Scandal.

Now I don't get a vote, mostly because I refused to make love to Mark Kernes and Peter disputes the fact that I invented Peanut Butter Oreos, but if I did, I would of blown everyone's mind and wrote in Demi Sutra and Nia Nacci, two of the hottest chicks in porn.
Peter would have been like "you can't do that" and I would been like "what if I offered you 3 cases of Diet Dr Pepper", and bam, the list grows by two.
And guess what Ana, both of those girls rank higher than you in both Google searches and PH ranking.
Ana, you lack class, you didn't win, and instead of taking it like a Spiegler Girl should, you lashed out and belittled fellow performers, and your own stable mate.  You once called Lasha a bully, well, that's what you've become. Kudos to you APAC President.
I guess the good thing to come from this, is now scammer Sinnamon Love can start a BIPOC Award, scam money from ad buys, and pay her light bill.