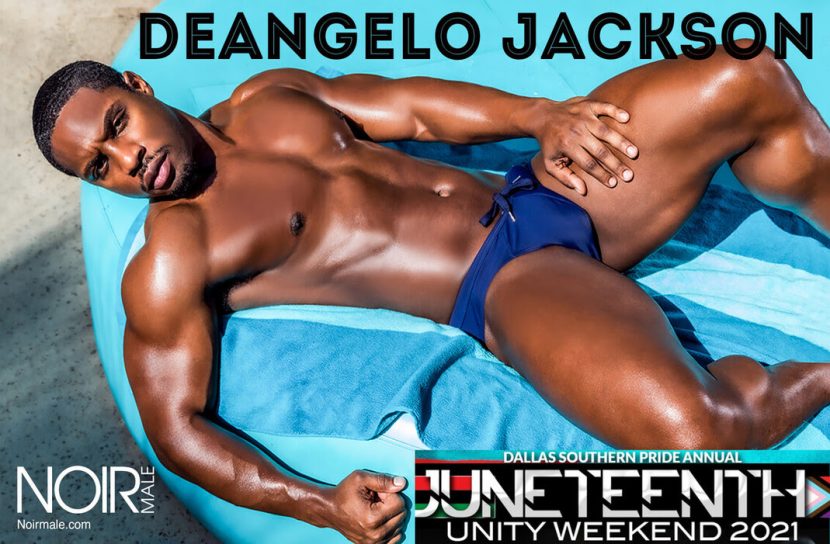 GayVN Performer Of The Year, DeAngelo Jackson, To Headline the Festivities at Dallas Southern Pride June 18-20th!
MONTREAL, Quebec (May 18, 2021) – GayVN Performer of the Year and Noir Male contract star, DeAngelo Jackson, to celebrate Juneteenth headlining Dallas Southern Pride (DSP) June 18-20, 2021, with gay adult brand Noir Male, an official sponsor of the DSP Pool Party and VIP experience at the DSP Mega Party.
Commenting on attending his first Dallas Southern Pride, DeAngelo Jackson says, "I am very excited to celebrate Juneteenth with Dallas Southern Pride and Noir Male. I am doing so much to bring more visibility to BIPOC. It's very exciting to work with likeminded individuals and organizations. I celebrate being a BLACK GAY man everyday… Black History and Pride Month is 365 days a year. Let's continue to highlight our community positively."
Dallas Southern Pride's Juneteenth Unity Weekend is a 3-day event hosted at Sheraton Suites Market Center in Dallas, Texas, beginning May 18th. The main festivities kick off on Juneteenth as DeAngelo Jackson along with adult stars August Alexander and Elijah Wilde bring the heat to Noir Male's booth for the star-packed DSP Pool Party, featuring a performance by Lil Kim. Noir Male will then premiere their exclusive new film "This Is Noir Male," plus a meet and greet with the stars, as part of the VIP experience at the DSP Mega Party Sat. June 19th at Gilley's Dallas.
The full line up of DSP events and tickets can be found here: https://dallassouthernpride.com/
DeAngelo Jackson is an award winning (GayVN Best Actor 2019, GayVN Performer of the Year 2020), multi-talented entertainer & model that started his career in 2009 and is in now in his third year as Noir Male's contract superstar. Jackson is a true adult entertainer, captivating with his erotic talents in print, on the screen, and in person. Born in Germany, this Gemini has been on top of the adult entertainment world for over 10 years and has paved the way for many BIPOC newcomers. With his Kodak smile and amazing body there is no secret why this ebony heartthrob has stolen the hearts of fans and critics. He continues to break barriers and achieve his entertainment goals on the big and small screen, claiming some of the most coveted adult awards with more in sight.
Noir Male celebrates the full range of sexuality and fantasy fulfillment, in a product that breaks free from the stereotypes and conventions of typical gay porn. No body part is off-limits, and no desires out of reach, in scorching hot encounters, where sexual preconceptions are left behind. Noir Male blends classic elegance with modern style, showcasing men of color, as sensual, sexual and unapologetically fine. Awarded Cybersocket's 2020 Best Black Site Award; 2019 Best New Site Award.