Los Angeles – Elegant Angel answers the age old question, "What's better than watching a girl work out?" with two hot girls working out in "Lesbian Workout 3." Not only do these girls know how to get their sweat on, they also bring some hot, all girl action. "Lesbian Workout 3" features eight hard-bodied beauties, including Jenna Sativa, Darcie Dolce, Sarah Jessie, Vanessa Veracruz, Jenna Reid, Brett Rossi, Ariana Marie, and Sofi Ryan. Elegant Angel is shipping all pre-orders now, and will be releasing "Lesbian Workout 3" to retail outlets on December 3rd.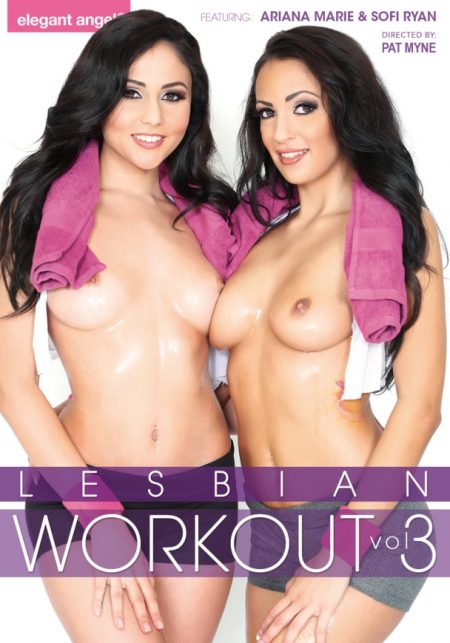 "Lesbian Workout 3" is directed by Pat Myne, and contains nearly two hours of lesbian sex, all with a workout theme. The DVD opens with Jenna Sativa and Darcie's poolside workout getting physical indoors. Next, Sarah and Vanessa watch each other's form before getting a taste of each other. The third scene features Jenna Reid and Brett who give their tongues a harder workout than their glutes. The DVD closes with Ariana and Sofi who decide they'd rather work their bodies in a carnal way.
Sarah Jessie, who is appearing in her fourth Elegant Angel production, enjoyed getting sweaty with partner, Vanessa Veracruz. She commented, "I loved working with Vanessa and I can tell she really loves girls.She is so sexual and made me cum so good. Pat knows how to get all the right angles, making working out look so sexy! He is one of my favorite directors, and is so easy to work with. I always enjoy working with him and have fun on set!"
Elegant Angel will begin to ship all pre-orders of "Lesbian Workout 3? immediately and copies will be available for purchase online and at retail stores everywhere on December 3rd. Fans can view the trailer at https://elegantangel.empirestores.co/2575507/lesbian-workout-3-porn-movies.html.
Elegant Angel's official membership website, ElegantAngel.com, boasts a catalog of over 960 movies, including classic content to exclusive access to new scenes and BTS before they are released on DVD. Members can watch online through a Roku streaming device, and enjoy a 10% discount on all sex toys and DVDs purchased through their official online store. Elegant Angel offers several membership packages to fit every budget, starting at just $0.41 a day.
Follow Elegant Angel on Twitter, https://twitter.com/elegantangelxxx, and Instagram, https://www.instagram.com/theelegantangel/.
For sales inquiries, please contact Jerry at [email protected] or 818.576.9464. Broadcast and foreign inquires can be directed to [email protected].
PR for Elegant Angel is provided exclusively by XXX STAR PR. Follow us on Twitter, @XXXStarPR and check out our website, xxxstarpr.com. For interviews or media inquiries, contact [email protected].