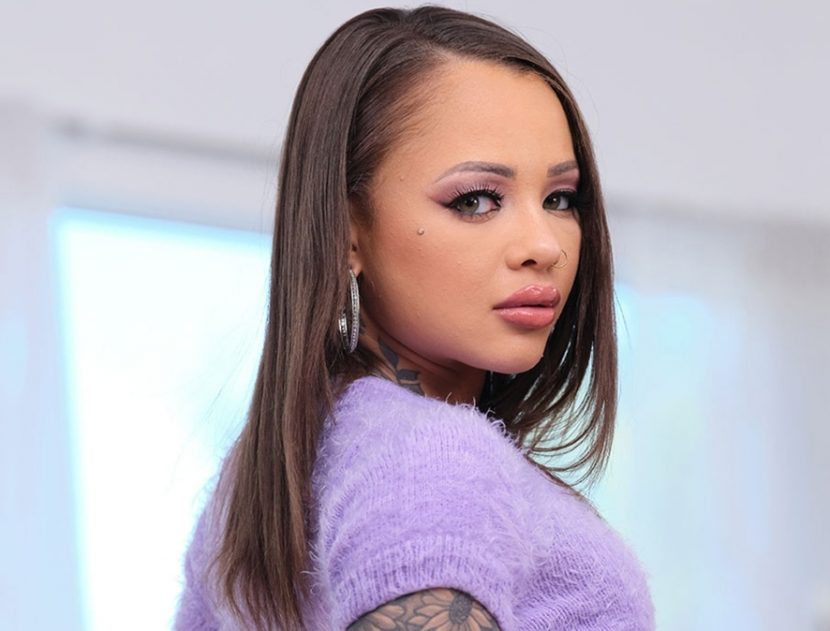 LOS ANGELES, February 7, 2022 — "Slam Piece" is the name of ace director Jonni Darkko's newest project. It presents comely XXX beauties and hugely endowed men in sport-fucking skirmishes that are much more athletic and orgasmic than romantic. The full movie premiered last week on DVD and VOD, and all five scenes are now live on EvilAngel.com. A trailer at EvilAngelVideo.com shows imposing studs manhandling wet, enthusiastic girls in oral, vaginal and anal workouts, all captured in Jonni's rich videographic style.
"So let me tell you the story on the title," Jonni volunteers. "I'm a big fan of comedian Tom Segura and the YMH podcast. One day he used the term, 'slam piece.' It's urban slang that means a sexual partner with whom you have sex with no emotional attachment. And I was like, man, that's a great title. I need to make that happen! How appropriate for what I do!"
Jonni's "Slam Piece" cast includes a couple of favorite ladies. He says, "We are fortunate to have the return of Holly Hendrix, which is awesome! She's always so fun and nasty, and the scene brings back some solid memories of our fun past shoots." Petite cover girl Holly ejaculates girl squirt in an anal scene that leaves her butthole blooming like a rosebud. Her partner is Troy Francisco, a new talent that "brings lots of dirty heat to the set," according to Jonni.
"Blake Blossom is a return that I'm happy to tell you was an amazing scene," continues the director. "This one is fun and dirty." Buxom Blake flaunts bouncing natural boobs, fucking fervor and deepthroat skills in her session with Rob Piper.
Says Blake, "My best scenes come from Jonni, and he helps me break out of my normal routine. This was my first time with Rob, and I could not have been more blown away. That man is strong! I vibed with him. He laughed at all my lame jokes, so I'm looking forward to seeing him again."
"Slam Piece" features three new starlets. Jonni: "We have Kay Lovely, and she had a great time with Rob. Kitana Montana is a new, fresh face for me, and she worked with Damion Dayski, and they killed it. She is fire. Tommy King has the most amazing booty I've seen in a long time, and she brings it a thousand percent."
Platinum blonde, ivory-skinned Kay sheds her lingerie in a slow-motion seduction. She and Rob share an intense, unbridled fuck, and Kay takes a spectacular cum facial. She recalls, "My experience with Jonni was nothing short of the best. From the second we started the photos, Jonni was helping me to learn how to position my body, which is knowledge I have used in every shoot since."
Glam, hugely busty Kitana kneels to service Damion's 12-inch tool, and he buttfucks the flexible girl in various positions. "I enjoyed my scene not only because I love hardcore," states Kitana, "but also because both Jonni and Damion are very, very pleasant to work with. It was a happy experience."
Rob drenches brunette stunner Tommy in oil, and she pins her long legs behind her ears as he plows her pussy. Deep anal reaming comes with gaping and rimming.
Jonni Darkko's newest project is now available on all platforms. Give "Slam Piece" a chance!