The male side of the adult industry is divided into two groups, me, and guys who just want to bang porn chicks. Todd Supro isn't me, so,  maybe he's here just to bang porn chicks.
A little background, about a year ago, Todd opened up the Starxxx Talent agency: Below is a screen cap I stole from AVN…
Now I usually don't care about new agencies, unless they call themselves Plush, or the owner has no clue.
After reading that PR, I knew right away, it wasn't Plush, mainly because the word Plush didn't appear in the PR, which means Starxxx falls into the no clue category.
More stolen excerpts from AVN:
STARxxx signed its first contract with young model Clarissa Cox.
Let see how that worked out:

Hmm…
But wait, there's more:
STARxxx is a licensed agency located in Los Angeles. To ensure better working conditions and to protect its clients, STARxxx verifies the legitimacy of every performance request and the legality of all contracts signed. Additionally, the agency has a strict bi-weekly STD/HIV testing for its own talent roster and the actors they perform with
So the 7/14/ and for some, 28 day testing isn't good enough for Todd, he wants 8 tests a month.
Real fast, 8 x 200 = 800 bucks,  or more than what half the guys get per scene, or even worse,  2 months pay for the Billy Bostons of the world..
Starxxx—  Ring Ring,
"Hello"
SX—- Is this Xander Corvus?
"Yes, who else would answer my phone you limey bastard?"
SX— Why are you calling me a limey bastard? I'm not English
"My bad dog, I thought it was Keiran Lee."
SX—No, this is Todd, from the newest greatest agency, Starxxx talent. Would you be interested in having coitus with my latest superstar Clarissa Cox?
"Sure thing, I can fit her in on Thursday at 1:05pm, right after my stories"
SX—-Great, oh and Xander, I'll need this months 8 tests, and last years 96, you can never be too safe
"What the bloody hell, you limey fucking bastard, shove a bottle of grey-poupon up your ass, click"
Even the 8 tests a month didn't get your Ole boy TRPWL's blood flowing. But when I started seeing tweets like this: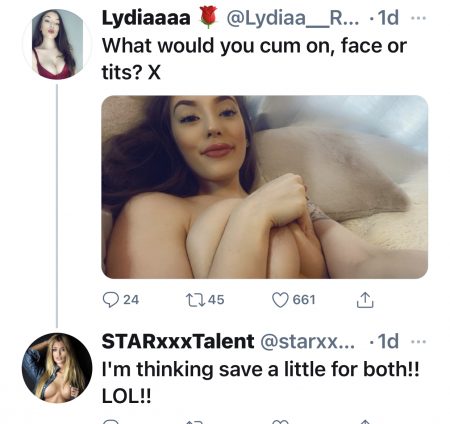 I started to get a that tingly feeling in my typing fingers, like when Jessy Jones gets arrested for beating up yet another chick. I  thought myself, is this post worthy? Is this guy on drugs? Of all the girls to talk to inappropriately he choose Bree Olson?
From AVN:
"By high ethical standards, (I mean that) STARxxx will operate with integrity and ethics in mind,"
This is NOT how agency owners should act on Social media. It's a well known fact that Sandra at OC wants to have unprotected sex with me, the mere thought of me standing in her hotel room with a TRPWL shirt on and a Keisha Grey inspired boner was too much for her to bear, so she blocked me. The point of that was,  her, Spiegler, Derek, Mark, and even that balding fuckwad over at Nexxxt Level don't tweet shit like that. It's completely unprofessional and at some point will lead to posts like this.
So the agency was a complete failure, but the desire to stay connected to porn was too much, so Todd jumped on board with Motley. One has to ask why?
Quote from that PR:
For the past year, Supro has successfully run his burgeoning talent agency, STARxxx Talent, also out of Calabasas, discovering and managing new talent and securing them bookings
Now, I'm not Astrid Star, I've never worked for NASA, I don't inject stuff into my penis, and I didn't go to an IVY league school, but I'd say a business folding in a year isn't the definition of "Successful." But I could totally be wrong. And if anyone wants to debate this, I have guy who will pull up every scene his girls shot, and it will be post 2.  I have a research department, its a non paid position, but effective none the less.
Lets hope Todd doesn't turn out to be another Danny Frost.