(Montreal, QC) — Adult Time celebrates the teen queens who rule the school in new Girlsway series Popular, starting November 14 at Girlsway.com and on the AdultTime.com platform.
Billy Visual directed the lesbian studio's three-episode series, a spirited nod to the power plays of mean teen girls, the minions who blindly follow and the nonconformists who dare to cross them.
"What an absolute pleasure working with every one of these girls," said Visual of his Popular cast. "Dealing with so many different personalities for four days could be a challenge, but everyone got along great and really embraced their roles… which made for great sex scenes, as the chemistry was incredible."
In 'Corrupting the New Girl' (out now), Sabina Rouge stars as the fresh arrival on campus who makes fast friends with Avi Love, only to swiftly ditch her for the school's cool clique (Aidra Fox, Jillian Janson, Aria Lee).
Episode Two, 'A Taste of Revenge' (available 11/21 sees Sabina taken down a peg by her new mentor Jillian, which leads to a vengeful takedown involving Aidra and Aria. Who will come out on top?
The series concludes with 'The Error of Their Ways' (11/28) as Sabina, Avi and Jillian mend their dramatic rift with a three-way apology session. Being Popular has never been this much fun!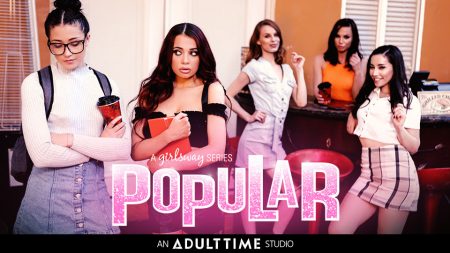 "Being able to be a part of Girlsway's Popular was one of the most fun and sexiest series I was able to be a part of," said Rouge. "All of the sexy ladies were delicious and so nice, and I had a blast the whole time on set! I'm so excited for everyone to be able to enjoy it as much as I did being a part of it."
Love seconded Rouge's enthusiasm, adding, "I absolutely loved my role! Acting alongside these beautiful girls was so much fun. I got to spend a couple days with them working on this project, and they're all really great people. The sex was AMAZING and I can't wait to be back for another series!"
Popular is available at Girlsway.com and the dedicated channel on the Adult Time platform at AdultTime.com, home to the most extensive catalog of award-winning content – with access to over 180 channels and 60,000 episodes in one subscription!
About Girlsway:
Launched in October 2014, GIRLSWAY is the largest lesbian erotica studio in adult, now including over 45 lesbian films and series and 7600+ episodes available on the Adult Time platform.  Created by award-winning filmmaker Bree Mills, Girlsway produces original and addictive narrative content that mixes passionate lesbian sex with compelling characters and inter-connected storylines.
About Adult Time:
Launched in 2018, Adult Time is a streaming service exclusively for adults.  Created by award-winning filmmaker Bree Mills, who also serves as Chief Creative Officer, Adult Time is a platform built by fans who believe in a future where mature audiences can safely, securely, and proudly have a place in their lineup for premium adult content.
Dubbed the 'Netflix of Porn' by mainstream media outlets, Adult Time offers an extensive catalog of over 180 channels, 60,000 episodes and 5+ new releases per day from some of the most recognized studios, including Girlsway, Pure Taboo, Burning Angel, Fantasy Massage, 21 Sextury, and Vivid Entertainment, alongside exclusive original series, feature films, and much more. 
For more information, please visit: 
Follow on Twitter & Instagram: