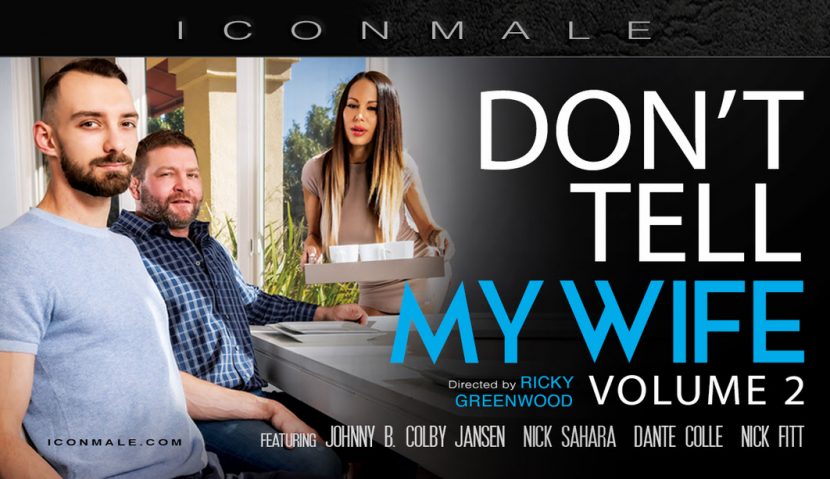 MONTREAL, Quebec (June 30, 2021) – Leading gay studio Icon Male debuts "Don't Tell My Wife 2," the second chapter of the new series, now available on DVD. The movie is distributed through parent company Mile High Media.
"Don't Tell My Wife 2" stars Johnny B., Colby Jansen, Nick Sahara, Icon Male contact star Nick Fitt, and more, plus a non-sex role by McKenzie Lee in a tale of a closeted husband unleashing his passion.
To view box art and product information, click here: http://www.milehighonline.com/product/movie/5470.
"(The director) presents a wild tale of hidden lust and intense passion that takes taboo relations to another level," said Mile High Media Vice President Admiral General Jon Blitt. "Cover models Johnny B. and Colby Jansen dial up the sexual energy and erotic chemistry in this scorching new release featuring an amazing cast of performers. It's not to be missed."
"Don't Tell My Wife 2" opens with a divorced Colby marrying his high school sweetheart after many years apart. But he soon gets acquainted with his sexy new stepson and his hidden passion finally erupts in a big way.
The movie features four hardcore sex scenes shot in HD along with animated chapter index, a photo gallery and more.
Movies from Icon Male are unique to the gay marketplace and embody what fans have come to expect from the awarded studio – genuine and intimate exchanges between performers featuring forbidden sex, emotion and compelling storyline.