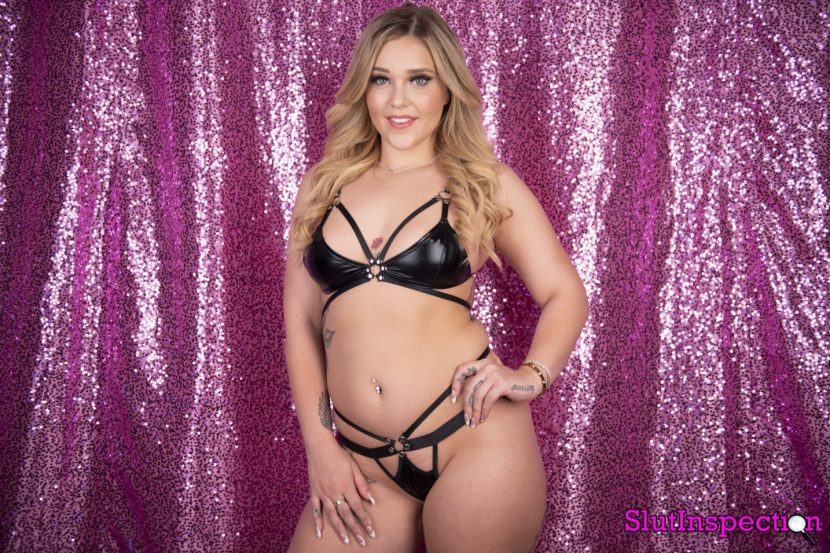 Los Angeles – Kali Roses debuts on Slut Inspection, directed by Suzanne Ferrari. This scene features Kali in a cuckqueen casting role where she is there to fuck the director's husband.
"I had a wonderful time! I loved everyone's energy on set. Working with Dan, in front of his wife, Suzanne felt so naughty." Kali Roses added, "I am so excited for my fans to see this scene."
"Kali is amazing to direct because she is so naturally sexy. Capturing authentic, passionate sex was effortless with her and Dan," said director Suzanne Ferrari.
"The best scene we can shoot for Slut Inspection is one where the female talent is a true slut, and Kali is that and then some!" Costar Dan Ferrari said, "Kali is a natural and brings the best out of everyone around her."
Kali Roses' brand new scene came out on February 21. The scene is released in 4k on slutinspection.com which also features new scenes from Brooklyn Gray, Blake Blossom, Bella Rolland, and Mona Azar.
Slut Inspection members have full access to hot new updates every week, can download and/or stream videos and pictures, and have the ability send to send Suzanne and Dan private messages, as well as 24/7 customer service, encrypted and safe billing via Model Centro.
This "Hot Husband" website features scenes where the wife encourages her husband to have amazing sex with hot pornstars while she films it for fans, but also maybe for herself.
Kali Roses is represented by 101 Modeling.
About Suzanne and Dan Ferrari
This married couple has worked in the adult industry for a combined total of 17 years. They honed their expertise behind the scenes, learning from other directors, and befriending many pornstars to execute a safe, fun environment to shoot in. Follow them on Twitter @slutinspection, @TheDanFerrari, and @suzannehatesyou.