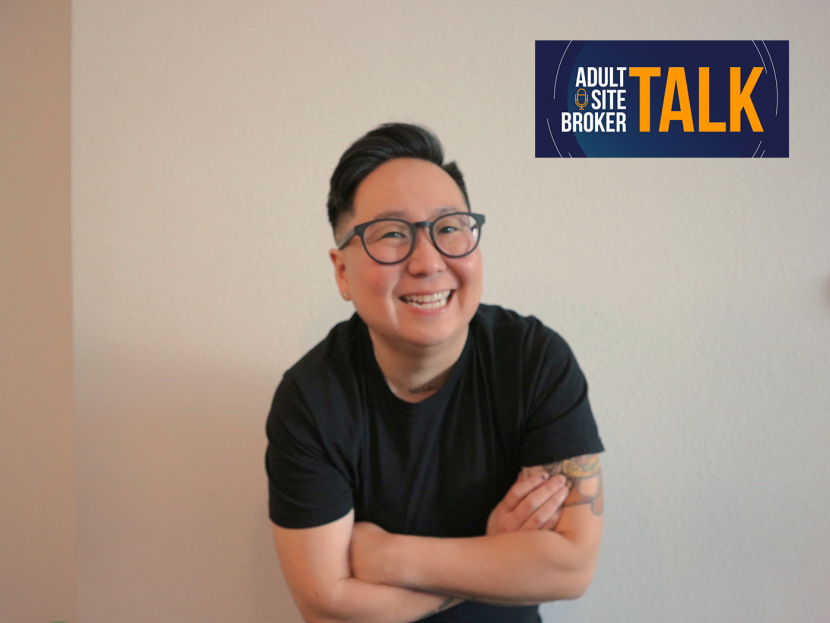 LOS ANGELES, CA – Grooby's longtime Creative and Editorial Director, Kristel Penn, appears in the latest episode of Adult Site Broker Talk with host Bruce Friedman now available for streaming at AdultSiteBrokerTalk.com.
"I had a blast chatting with Bruce for his podcast, Adult Site Broker Talk," stated Penn. "It was a fun opportunity to discuss the Trans Erotica Awards before I'm neck-deep in the planning process and also reflect back on how far we've come. It's our 15-year anniversary and it's wonderful to see how much our part of the industry continues to flourish."
In episode 128 of Adult Site Broker Talk, Friedman interviews Penn about the history of Grooby's Trans Erotica Awards (TEAs), their humble beginnings in the adult industry, their company Ikigai Marketing, and their position working for the leading producer of trans erotica. Penn also discusses their work as an MFT trainee at the LGBTQ Center in Orange County and their passion project, Sad But Rad Club. Tune in at AdultSiteBrokerTalk.com or directly here.
In addition to their responsibilities as Grooby's Creative and Editorial Director, Penn is the Executive Producer of the Trans Erotica Awards (TEAs). The two-day event welcomes guests from across the world for a star-studded celebration in the heart of historic Hollywood. To learn more, visit theTEAShow.com or Grooby.com.
Follow Penn on Twitter at @thekristelpenn or on Tiktok at @sadbutradclubxo.