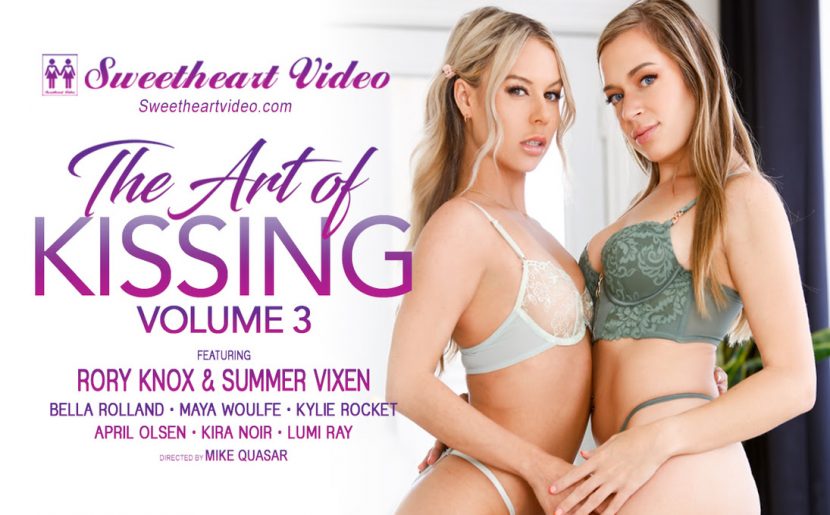 Exclusive Director Mike Quasar Directs Kira Noir, Kylie Rocket, Maya Woulfe, April Olsen, Lumi Ray, Summer Vixen, Rory Knox and Bella Rolland!
MONTREAL, Quebec (Dec. 7, 2022) – Sensuality and unbridled passion take center stage in "The Art of Kissing 3," the newest release from Mile High Media's all-girl studio Sweetheart Video. The movie is available now on DVD.
Veteran director Mike Quasar explores the indelible lust and sexual energy unleashed by the simple act of kissing in this third chapter of the popular series starring box cover models Rory Knox and Summer Vixen, along with Kira Noir, Kylie Rocket, Maya Woulfe, April Olsen, Lumi Ray and Bella Rolland.
For box art, cast list and more, visit https://www.milehighonline.com/product/movie/5557/the-art-of-kissing-vol.-3.
"Mike returns to the series with yet another compelling new chapter of 'The Art of Kissing,'" said Mile High Media Vice President Jon Blitt. "Featuring a brand-new cast of talented performers, fans will be enthralled by the intensely erotic action accented by the unique and very real chemistry between these beautiful adult stars."
The action opens with Vixen and Knox sharing their sapphic passion, followed by Olsen and Ray discovering each other's hot spots, then by Rolland and Noir, and finally by Rocket and Woulfe.
"The Art of Kissing 3" was shot in ultra HD, featuring four sensual scenes of lesbian sex, as well as a slide show of exclusive photos, animated chapter index, no regional coding and more.
Sweetheart Video is the place for those lovers of girls who can't have enough soft breasts, fully shaved beauties and toe-curling orgasms. It features high-quality lesbian erotica and lesbian porn with real orgasms and the hottest adult stars.