Los Angeles – PervCity has debuted the uncensored extreme blowjob featuring Keira Croft and Adira Allure on their Clips4Sale store. This outrageous deepthroating scene is a MUST BUY for blowjob lovers.
"This was my first time doing a blowjob where the intention was to throw up all over the cock being thrusted into my mouth," said Adira Allure, "and it was so amazing to let go if any inhibitions like that and let it all out. A year ago I would have never thought I would do something like this shoot. I would've probably said no way if I was asked, but when Suzanne approached me, I was THRILLED at the opportunity to try something new like this and work with Keira who is someone I've admired in this porn industry over the last year. After almost 25 years of purposely trying not to throw up after something hit my gag reflex it was an interesting transformation to do the opposite. There is something beautiful that happens when you let go of norms in society that have been repressing you for so long and sharing a cock with the gorgeous Keira Croft while we had each others vomit in our mouths only shined light on that process for me even more. Thank you Perv City for this fantastic experience and I am excited to produce many more puke blowjobs in my future."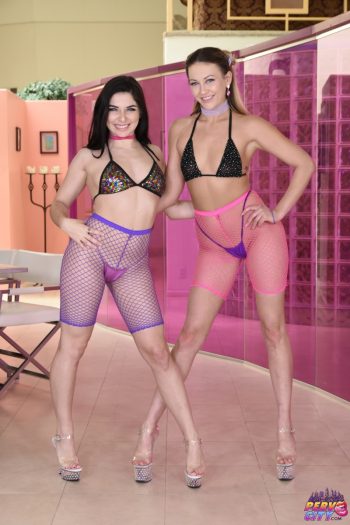 "We decided to hire two BJ queens," said director Maestro Claudio. "They could not have delivered a better performance. I knew already how nasty Keira is and Adira proved to be at the same level. Rivers of rainbow puke periodically came out of those two beautiful mouths making this blowjob an award worthy scene. The result speaks for itself."
Purchase the uncensored scene only on the PervCity Clips4Sale, https://www.clips4sale.com/studio/120209/22638035/puke-deepthroat-adira-allure-and-keira-croft/.
Follow PervCity on Twitter, https://twitter.com/pervcity, and Instagram, https://www.instagram.com/pervcity_com/, for trailers, photos, and behind the scene videos.
Follow us on Twitter, @XXXStarPR and check out our website, xxxstarpr.com. For interviews or media inquiries, contact [email protected]