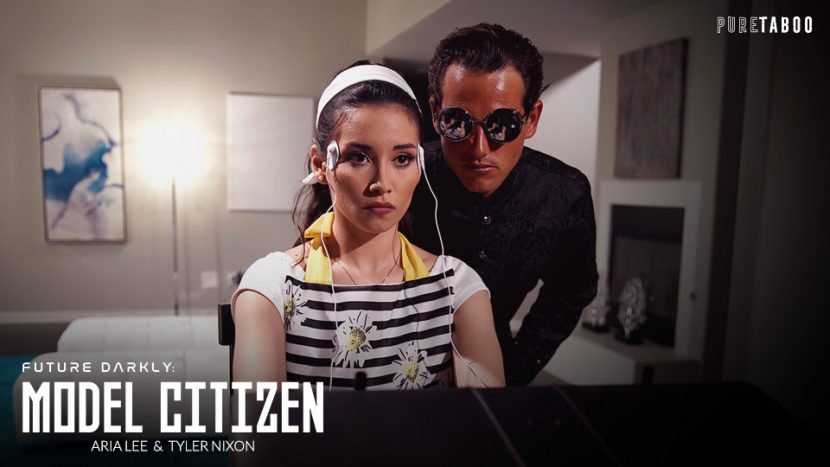 (Montreal, QC / May 20, 2019) — Adult Time presents the latest episode of Pure Taboo's fantasy/sci-fi series Future Darkly, 'Model Citizen', a concerning look into where society could lead if its people don't continue to preserve and protect their personal rights.
Director Craven Moorehead's sinister new scene, out now at
PureTaboo.com
, begins with a cautionary quote from Alan Moore's popular – and prescient – graphic novel
V for Vendetta:
"Since mankind's dawn, a handful of oppressors have accepted the responsibility over our lives that we should have accepted for ourselves. By doing so, they took our power. By doing nothing, we gave it away."
Aria Lee stars as Citizen Val, a young housewife trapped in a world where she is constantly watched and monitored by the all-seeing Mother. One day she receives a visit from her Law Enforcement Auditor Bale (Tyler Nixon), who is at her home to make sure that she is perfectly following the rules… or else.
"Do you submit to a brief physical inspection to confirm that your genetic profile is up-to-date?" asks Bale after an interrogation. "Yes," Val solemnly replies, as Bale turns off Mother's surveillance. Val then turns to her auditor and smiles. "I'm so happy… I missed you so much! Two weeks is way too long!"
"It was my first time working with Pure Taboo… I loved every second of it!" said Lee of her Future Darkly performance. "Had so much fun with the storyline, and I would love to work with you guys so, so much more!"
Nixon agreed, saying, "Everyone is always so awesome to work with – you can tell Pure Taboo focuses on pure talent! Much love. They should hire me for every movie."
The full episode and trailer are available at (Puretaboo.com/Future-Darkly-Model-Citizen) and also within the dedicated Future Darkly channel on Adult Time at AdultTime.com/futuredarkly to watch other episodes of Future Darkly.  Visit Adulttime.com to access its full library of award-winning brands, including Pure Taboo, and 60,000+ scenes.
Find out more about Aria Lee and Tyler Nixon by looking into their Pure Taboo Cast Pages.