Tampa – Roxie Rae always wants to make sure her fans stay satisfied with her exciting content, and that's why she chooses some of the top fetish talent around. But, it's always extra special when Roxie herself stars in her clips. This week, Roxie brings her fans two sexy JOI clips on her Karate Domination and The Foot Fantasy sites.
On Karate Domination, Roxie just finished up at the dojo, and her knee high socks are so sweaty and stinky. Roxie knows you like this, so she teases you, peeling off her socks and showing you her sweaty soles. If you're lucky, she'll use her feet to get you off! She might even let you finish on her size 5 beauties.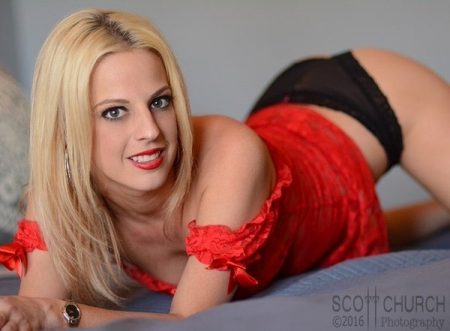 The Foot Fantasy picks up where Karate Domination left off, this time Roxie is your favorite cheerleader. Roxie cheered her heart out at the game, and her feet took a beating. Her socks are soaked and she knows you want to sniff them. Roxie encourages you to jerk off, and the more you do it, the more of her sweaty feet you'll see. And, if you cum on her command, she'll let you make her feet even wetter.
Roxie wasn't the only star in recent fetish clips, as she had her friends stop by as well. Britteni Bank and Olivia Kasady had some cosplay fun for Best Wedgies. Britteni, as Supergirl, knows her enemy, Olivia, is up to no good. Just as Olivia finds the hard drive that could control the world, Supergirl catches her in the act. Olivia's punishment is to get some super wedgies, starting with one right through her pants. Supergirl pulls off Olivia's pants and continues with the wedgies, until Olivia finally surrenders.
And, lastly on Roxie Rae Fetish, Riot Starter, donning a bright orange bikini, and is ready to destroy some balloons. Starting with an orange one, she bursts each balloon one by one, sitting and riding until they pop, even using her long legs to crush them to pieces.
Follow Roxie on Twitter and Instagram. For a complete list of who you can order custom videos with visit RoxieRae.com or email [email protected]. Buying a gift off Roxie's wish list is the perfect way to please her. Roxie has been adding exclusive never before seen content to her OnlyFans at https://onlyfans.com/roxierae, and IWantRoxie.com is the place to find Roxie's best solo clips.
PR for Roxie Rae is provided exclusively by XXX STAR PR. Follow us on Twitter, @XXXStarPR and check out our website, xxxstarpr.com. For interviews or media inquiries, contact [email protected].