You know your agency sucks when your stars tweet out this kind of message.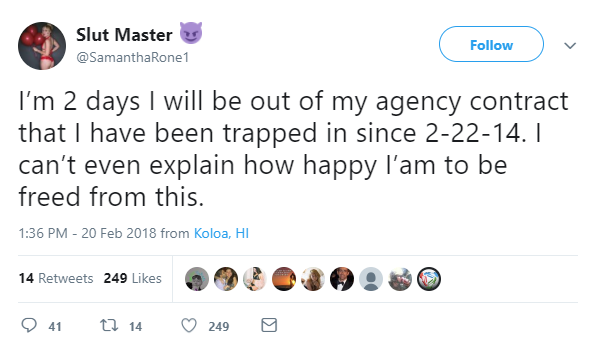 So who is she with? Turns out the answer is Matrix Models.
I was surprised she was still repped by him considering he hasn't sent out an email blast about her to producers since August 31, 2014.
How can you possibly justify not sending out an email blast about one of your performers in 4 years?
Most send out emails to producers every month letting them know which girls are in town and available for work.  Matrix Models didn't send out a single email to producers about Samantha Rone since August 31, 2014. Why? Is he really just that lazy?
It's not like he isn't sending out any of these emails to producers. He wrote one just last week about Paisley Rae and the week before that about Ariel Grace and Aidra Fox. So why ignore Samantha Rone for YEARS?
Producers have long complained about having to work with Matrix Models. He never answers his phone. He's very unprofessional but he locks girls down to multi-year contracts so it's not like the girls can do anything about it.
It's sad really how easily a bad agent can mess with a girl.