At this point, this isn't surprising. Society 15 has signed women beater Bruno Dickemz to it's ever growing company of scumbags.
Bruno has been accused multiple times of beating industry girls, so many times in fact, I stop posting about it..
Bruno Dickemz Assault Victim Tweets Picture Of Her Swollen Face UPDATED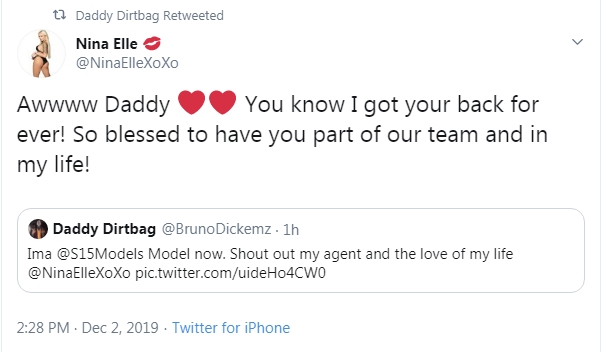 As I said, this comes as no surprise, Society 15 is the same agency who threatened to beat up a female talent, and put an alleged hit out on a former employee;
Let's not forget one of the Society 15 owners was once accused of lewd conduct with a 13 year old girl.
Now all Nina needs to do is add Chris Strokes, maybe once War Machine makes parole, Nina can add him to her ever growing list of shitheads.
Remember that time we had a moratorium and Bruno shot during the shut down? Don't worry, Nina has his back
Right abut now is were Nina says she was joking about signing Bruno,  and all of this is just TRPWL picking on a a drug free, non-criminal talent agnecy loaded with great people. I say, if it is a joke, its in really bad taste,
I'm starting to see why it took Society 15 so long to get licensed and bonded, they couldn't find anyone without a criminal record to lead the dying agency into the future.
Cue the we are gonna beat TRPWL up tweets, followed my me asking whats taking so long,  I've been to AVN 8 years in row…