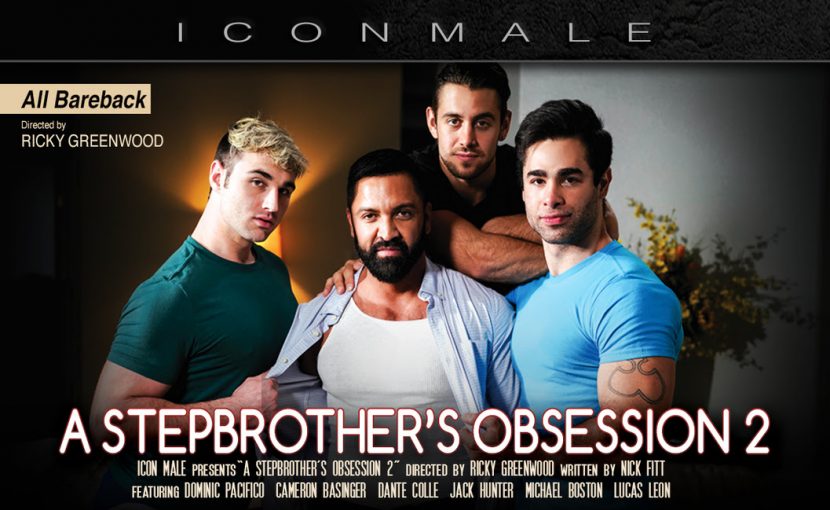 Taboo passions explode in "A Stepbrother's Obsession 2," the second chapter of the new series written by contract star Nick Fitt, from leading gay studio Icon Male. The movie is distributed through parent company Mile High Media and is available now on all platforms.
Directed by awarded director Ricky Greenwood, "A Stepbrother's Obsession 2" features box cover models Michael Boston and Jack Hunter, along with Dominic Pacifico, Cameron Basinger, Dante Colle and Lucas Leon giving into their forbidden lust.
"A Stepbrother's Obsession 2," is an erotic tale of a family beset by jealousy, greed and forbidden lust. It opens with two stepbrothers united only by their parent's marriage, push family limits to the core as Michael Boston overhears his stepdad Dominic Pacifico welcoming his brother, Cameron Basinger into the family with his big unit. Meanwhile, Jack Hunter can't keep his hands or dong off his stepbrother Michael and shows him how close family ties can be.
But dad Dominic knows he's in deep when he bangs his second stepson Michael, showing him how he doesn't pick any favorites. But Lucas Leon is disheartened to learn the family secret, so he calls Dante Colle over to console him, but Dante just wants in on the action, as Michael watches with greed!
The movie features four hardcore sex scenes shot in HD along with animated chapter index, a photo gallery and more.
Movies from Icon Male are unique to the gay marketplace and embody what fans have come to expect from the awarded studio – genuine and intimate exchanges between performers featuring forbidden sex, emotion and compelling storyline.